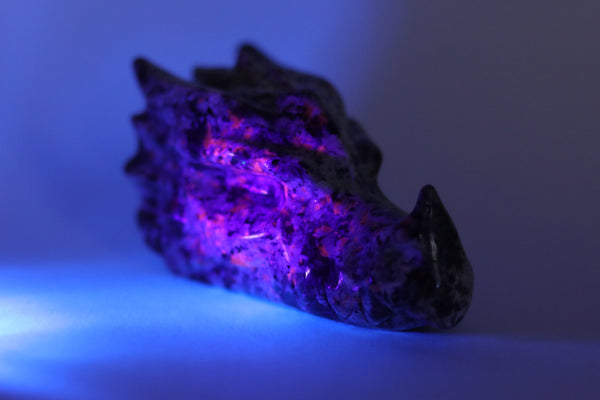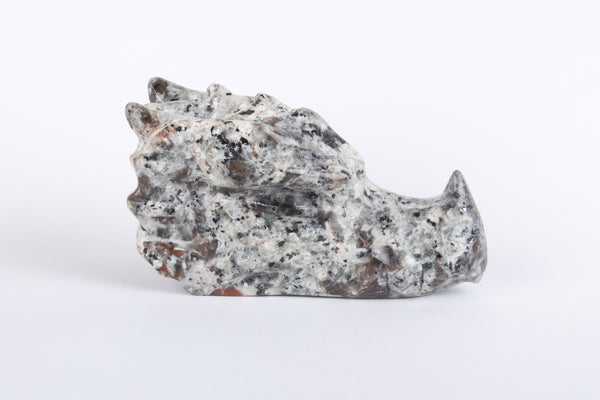 Get ready to ignite your imagination with our Flame Stone dragon skull! Measuring 3 inches in size, this unique and captivating piece is handcrafted from high-quality Flame Stone, a mesmerizing gemstone that comes to life under UV light.

With its intricate design and realistic features, this dragon skull is a work of art. Every curve and contour has been expertly crafted to capture the fierce spirit of the dragon, and the Flame Stone's natural veins and coloration only add to its character and charm.

But the real magic happens when you switch on the UV light. Suddenly, the Flame Stone comes to life, glowing with an otherworldly light that will leave you spellbound. The skull's details will be highlighted, its colors intensified with electric orange, and the effect is nothing short of mesmerizing.

Not only is this Flame Stone dragon skull a stunning decorative piece, it's also a powerful tool for enhancing your creativity,  making it the perfect addition to your work space

So whether you're a dragon lover, a crystal collector, or just someone who loves unique and intriguing decor, our Flame Stone dragon skull is a must-have. With its combination of expert craftsmanship, natural beauty, and mesmerizing UV glow, it's a piece that will light up your life in more ways than one.
Size: 3 Inches
Weight: 3.2 oz
Made in the USA