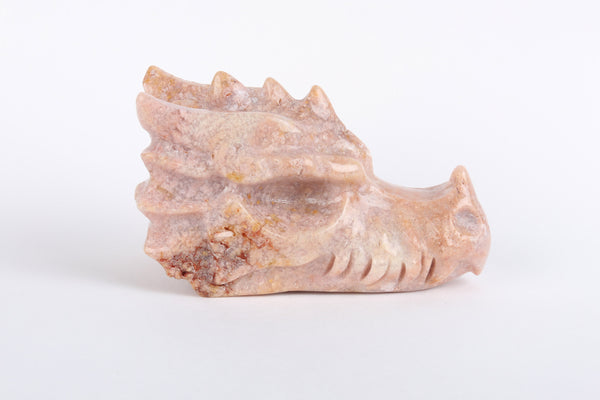 Flower Agate Dragon Skull
Experience the majestic beauty and powerful energy of our 3 inch Rhodonite Dragon Skull, a true masterpiece crafted right here in the USA. Made from the highest quality Rhodonite crystal, this dragon skull is hand-carved with expert precision and attention to detail.

The deep, rich pink hue of the Rhodonite adds a touch of natural beauty, while the intricate design of the skull reflects the strength, power, and wisdom of the dragon. Every curve and crevice is expertly carved, making this dragon skull a true work of art.

By owning this Rhodonite Dragon Skull, you will infuse your space with the vibrant and energetic spirit of the dragon. Whether you use it for meditation or simply as a striking decorative piece, its power and beauty are sure to leave a lasting impression.

So why settle for anything less than the best? Choose our USA-made 3 inch Rhodonite Dragon Skull and let its energy and craftsmanship speak for itself.
Size: 3 Inches
Weight: 3.2 oz
Made in the USA