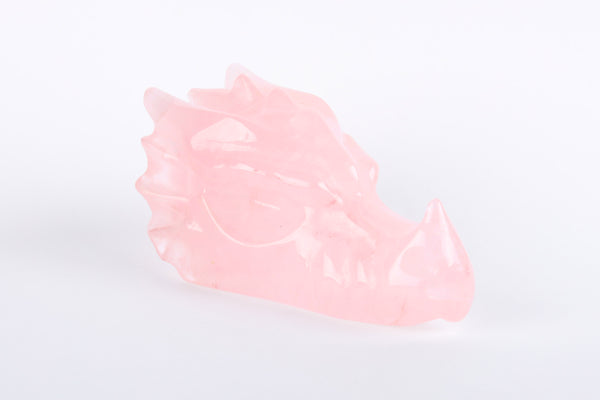 As you hold this dragon skull in your hand, you'll feel the smooth, cool surface of the crystal, and the weight of its presence. The intricate carving captures the fierce spirit of the dragon, with every scale and horn carved to perfection. The delicate rosy hue of the rose quartz adds a touch of elegance and beauty to this already incredible piece.

This dragon skull isn't just a decorative item - it's a powerful tool for healing, meditation, and protection. Its energy is said to soothe the mind and emotions, promote love and harmony, and strengthen the aura. You can use it to connect with your own inner strength, or to call upon the power and wisdom of the dragon.

Display it in your home or office, and watch as its presence fills the room with a sense of mystery and wonder. Or, carry it with you wherever you go, as a talisman of protection and guidance. No matter how you use it, this rose quartz dragon skull is sure to be a prized possession that will spark your imagination and inspire your spirit.
Size: 3 Inches
Weight: 3.2 oz
Made in the USA